Want to know how a seagan stocks her pantry? Here's what's inside our cabinets.
| By Lisa McComsey |
Most people assume that seagans and vegans are health nuts. (Or masochists.) Why else, goes the thinking, would they deprive themselves of life's best culinary gifts: bacon, pizza, and all-you-can-eat fried shrimp?

Truth is, it's easy to be an unhealthy, nutrient-deprived, overweight seagan if you're not a little careful. How fun it would be to load the shopping cart with Oreos, potato chips, French fries, and dairy-free "ice creams"!
Sugar/salt coma, anyone?
We recommend a balanced, whole-foods diet composed mainly of fruits, vegetables, nuts, seeds, grains, and two to three weekly servings of seafood. Go light on processed foods, anything loaded with sugar, and deep-fried anything.
That said, below are a few of our favorite things. With these items in stock, we're never at a loss for meals—even when there's "nothing in the house to eat."
Beans and Legumes
Dried or canned beans (buy BPA free when possible)—black, cannellini, garbanzo, great northern, kidney, lima, navy, pink, white, etc.
Lentils (dried)
Beverages
Coffee
Kombucha
Seltzer
Tea (preferably herbal or green)
Water
Wait, where's the juice? We don't recommend it. All the good stuff is squeezed out, leaving you with a glassful of sugar.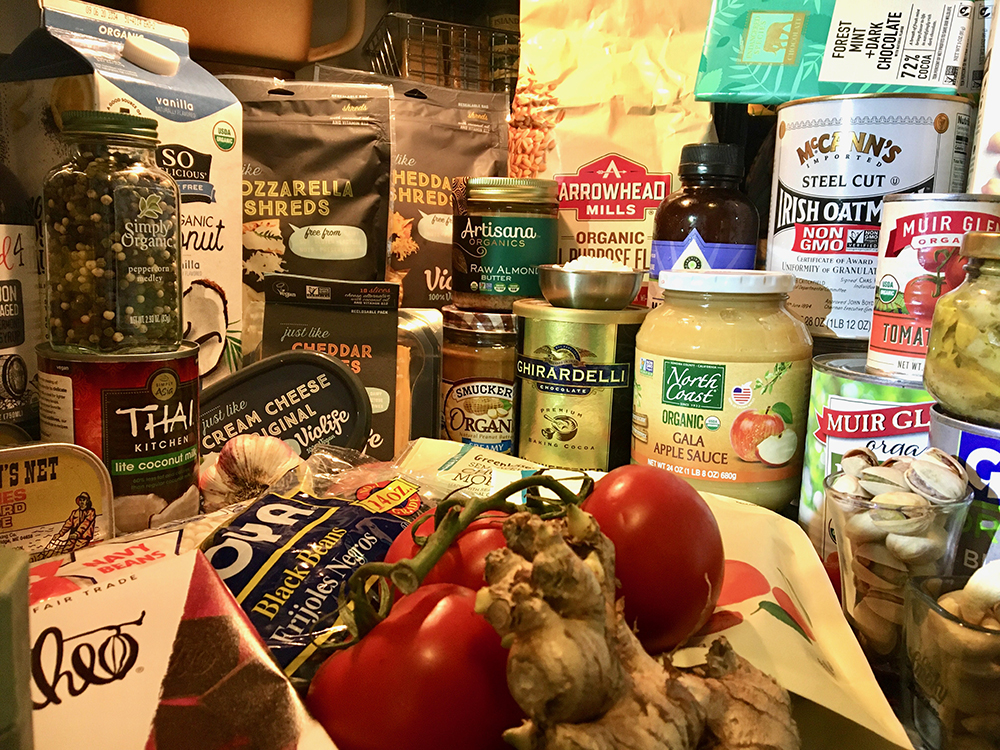 Canned/Packaged Goods
Anchovies (preferably in water)
Apple butter and applesauce—unsweetened (good for baking)
Artichokes
Clams—chopped or minced
Coconut milk—light
Marinara sauce—low fat, low sugar (check labels for vegan)
Nut and seed butters—almond, cashew, peanut, sunflower seed, walnut, etc.
Salmon
Sardines (packed in water
Tomato paste
Tuna fish—light (packed in water), sustainably caught (look for "hook and line" "troll and pole," or "troll caught" on label)
Vegetable stock (oil free)
Cereals
Oats and other grains, like quinoa, teff, and amaranth—for "porridge"
Various cereals—100 percent whole grain with no added oils (we love Nature's Path Smart Bran and Ezekiel Cinnamon Raison)
Condiments
Capers
Chutneys (great to spice up wraps and rice and beans)
Hot sauce (we're partial to Cholula and Sriracha)
Mustard—Dijon or whole grain (check ingredients for dairy)
Olives (in water)
Salsa
Tamari and/or soy sauce (low sodium)
Thai green or red curry paste
Vinegars—apple cider (raw), balsamic, red wine, rice, and white wine
"Dairy" and Refrigerator Essentials
"Milk"—almond, cashew, coconut, flax, hemp, oat, pea, rice, soy, and so forth—check labels for sugar content and buy the unsweetened versions
Tempeh and tofu
"Yogurt"—almond, cashew, coconut, soy, etc.—opt for plain/no sugar
Fish
Ask your fishmonger what's fresh and local; otherwise, buy sustainably caught varieties (note: in recipes, you can usually swap one fish for another, depending on what's available)
Freezer Section
Edamame—great for snacking
Fruits and vegetables
Salmon (good to have on hand for a backup dinner when you have no time to shop)
Shrimp (perfect for quick dinners)
Veggie burgers—make sure they're vegan; many contain eggs and/or cheese
Grains
We love them all!
Amaranth
Barley
Buckwheat groats
Bulgur
Farro
Freekeh
Grits
Kamut
Millet
Oatmeal
Popcorn or sorghum kernels
Quinoa
Rice—not the processed white stuff! Stick with basmati, black, brown, jasmine, and wild
Teff
Herbs and Spices
Keep a variety on hand to perk up your dishes
Indulgences
Dark chocolate—70 percent cacao or more (not all are vegan; be sure to check)
Vegan "ice cream" (reserve for special occasions; most are bursting with sugar)
Nuts and Seeds
Any and all are great to keep on hand; I keep in stock at all times:
Almonds
Cashews
Chia
Flax
Hemp hearts
Pecans
Pumpkin seeds
Sunflower seeds
Walnuts
I throw them in cereal and yogurt, toss with my salad, and use cashews to make cashew cream.
Pasta
Since Italian food is one of my favorite cuisines, I make pasta once or more a week. Avoid the processed white stuff and stick with noodles made from:
Whole wheat / whole grain
Beans (black bean, mung bean, etc.)
Brown rice
Produce
Go wild in the fruit and vegetable section of your supermarket; I love the farmers' markets in my town during summer/fall months—it's good to buy local when possible. Wondering if you should buy organic? Check the Environmental Working Group's guide to Dirty Dozen and Clean Fifteen.
Now that you've had a peek in my kitchen, what are your food faves? Please share in the comments section below.
Photograph by TK. © 2020