---
SEAGAN DIET — IS THIS DIET HEALTHY? — Dietspotlight
MARCH 2018
---
JUST EAT FISH? THEN YOU ARE A SEAGAN! — AGING HEALTHY
SEPTEMBER 2016
---
FANMKANSON.COM — Q+A WITH LISA MCCOMSEY
AUGUST 2016
---
ALL ROADS LEAD TO THE KITCHEN — SEAGAN EATING RESOURCE AND COOKBOOK REVIEW
AUGUST 2016
---
CLOSER WEEKLY — FAST FAT LOSS
AUGUST 2016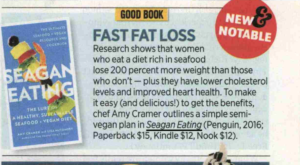 ---
WAKE UP WITH JEREMY GRUNIN WOBM — WITH HOST PHIL BRILLIANT
JULY 2016
---
ASBURY PARK PRESS — SEAFOOD COMES TO LIFE AT LOCAL GALLERY
JULY 2016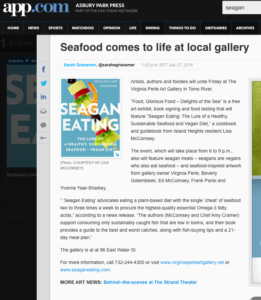 ---
PODCAST INTERVIEW — WITH NOURISH COACHES WENDY BRIGHT-FALLON AND DEBBIE PETERSON
JULY 2016
---
ORGANIC AUTHORITY — 'SEAGAN EATING': THIS NEW VEGAN DIET HAS ONE SURPRISING ADDITION
JULY 2016
To the list of alternative diets like flexitarian, paleo, and fruitarian, we can now add seagan. A seagan is a person who ascribes to a vegan diet, with one caveat — seagans eat fish.  READ MORE
---
BRIT + CO — WHAT A SEAGAN DIET IS AND WHY YOU SHOULD DO IT
JULY 2016
Let's face it: In some way, shape or form, we all want better health. Whether it's trying a new seven-minute workout plan, attempting to follow Jen Aniston's diet, experimenting with weird ways to get rid of blemishes or eliminating stress, chances are you've hopped on one bandwagon or another to improve your mind, body or spirit. For most of us, however, nutrition is what it all boils down to.  READ MORE
---
HUFFINGTON POST — SEAGAN DIET SUGGESTS IT'S NOT A CRAZY IDEA FOR VEGANS TO EAT SEAFOOD
JULY 2016
The way chef Amy Cramer and author Lisa McComsey describe it, this makes perfect sense. The co-authors of 2013's popular The Vegan Cheat Sheet are back at it again with their newest cookbook and resource for eaters looking to adapt to a plant-based lifestyle. But this time around there's an octopus in the room: The duo is making a case for incorporating seafood into a diet otherwise free of meat or any other animal products.
---
KIWI NOW — WHAT'S NEW, WHAT'S HOT, WHAT'S WOW
JULY 2016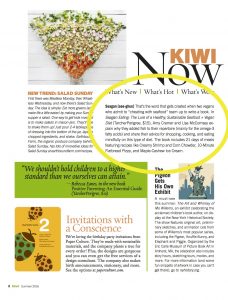 ---
EPICURIOUS — EVERYTHING YOU NEED TO KNOW ABOUT SEAGANISM, THE NEW SORT-OF, KIND-OF VEGAN DIET
JULY 2016
What's Seaganism? Pretty much exactly what it sounds like—a vegan diet augmented by the occasional piece of seafood. It's distinct from pescetarianism in that it doesn't involve dairy or eggs. So no need to hold the tuna in your tuna salad, but you'll need to swap in Veganaise (or Fabanaise!) for traditional mayo. READ MORE
---
PUBLISHER'S WEEKLY — CARBS ARE BACK, AND VEGAN'S GONE FISHING: HEALTH AND FITNESS BOOKS FOR SPRING-FALL 2016
JULY 2016
In 2013's The Vegan Cheat Sheet, the authors provided a road map for vegan living. Here, acknowledging that "some will say we're sleeping with the enemy," they add sustainable seafood to the otherwise vegetable-based diet they promote. READ MORE
---
MIND BODY GREEN — THE ONE TWEAK THAT WILL OPTIMIZE YOUR DIET
JULY 2016
Two former vegans, Amy Cramer and Lisa McComsey, explain why they've tweaked their diet in favor of more omega-3s.
Everyone knows the vegan diet is boring, restrictive, and unhealthy ("how do you get your protein?")—and that vegans are pale, Birkenstock-clad treehuggers who sport "Meat is Murder" bumper stickers and proselytize at cocktail parties.
---
DISH MAG — ALL BOOKED UP
JULY 2016
Amy Cramer and Lisa McComsey, authors of Vegan Cheat Sheet, had been strict vegans until recently, when they began "cheating with seafood", something that could make them seem like traitors to their creed. But in their defense, they had come to realize that omega-3 fatty acids were the missing link in their all-vegan regimes. In their new cookbook SEAGAN EATING, the duo outlines their refreshing approach to a sustainable, plant-based diet and tells us why they decided it was high time that things got a little fishy. READ MORE
---
TARCHER BOOKS — TO TRY AT HOME: A QUICK AND HEALTHY RECIPE FROM SEAGAN EATING
JULY 2016
Switching to a vegan lifestyle when you've been a carnivore your whole life can be tough–you may have even tried once or twice before. Many see it as too restrictive or hard to follow. But what if you adopted a seagan diet? Seagan Eating, the new guidebook from Amy Cramer and Lisa McComsey, offers readers advice and recipes that make the switch to a healthier lifestyle not so daunting. A plant-based foundation with seafood added in a few times a week, the seagan diet is a nutritious way to help you lean away from a meat-heavy lifestyle. READ MORE
---
MARIASHRIVER.COM — ADVENTURES SEAGAN (SEAFOOD + VEGAN) EATING: 4 HEALTHY RECIPES TO FUEL BODY & MIND
JULY 2016
We're once-devoted vegans and authors of a how-to-go-vegan guide and cookbook (The Vegan Cheat Sheet) who kept a dirty, little secret: We started incorporating fish into our otherwise plant-based diet. The reason was simple: We felt we were missing out on the important essential omega-3 fatty acids you can only get from seafood. After a few humiliating "gotcha" moments when friends—aka the vegan police—caught us with fish on our forks, we decided it was time to come out as seagans. READ MORE
---
ELEPHANT JOURNAL — WHAT THE FLUKE DO SEAGANS EAT?
JULY 2016
So what exactly do Seagans eat? We follow a vegan (plant-based) diet—that includes fruits, vegetables, legumes, nuts, seeds, and grains—with one allowance: seafood. No red meat, no pork, no poultry, no eggs, no dairy. And because we strive to be healthy seagans, we try to avoid a lot of sugar, oils, fried foods, artificial chemicals, and junk like that. (The operative word is strive. We're not perfect.) READ MORE
---
EAT CLEAN — WHAT'S THE SEAGAN DIET AND IS IT WORTH TRYING?
JULY 2016
Seagan diets aren't exactly new. The term showed up on Urban Dictionary all the way back in 2007, and you can bet that even before that, there were some folks who ate a plant-based diet that also included seafood—even if they didn't actually describe their diet as seagan. But with this month's release of the new book Seagan Eating, seaganism might be poised to become the next big thing. READ MORE
---
JULY 2016
Catfish seems like a healthier food option (hey, it's fish), but you may want to check out your catfish whereabouts. Nearly 90 percent of catfish imported to the US comes from Vietnam, which has been linked with contaminated water, outdated facilities, and the use of antibiotics that are banned in the US, according to Amy Cramer and Lisa McComsey, authors of Seagan Eating: The Lure of a Healthy, Sustainable Seafood + Vegan Diet.  Two varieties, Swai and Basa, aren't technically considered catfish by the federal government and so are not subject to the same inspection standards as other imported catfish, say Cramerand McComsey. Yikes. So what are you eating? READ MORE
---
JULY 2016
Once upon a time, vegans—vegetarians who eschew all animal products, such as eggs and dairy—were seen by most people as part of a decidedly fringe dietary movement. And while their numbers still aren't huge, vegans have started edging into the food culture mainstream.
Evidence of this development is supported by two books that no sizable publisher would have thought worth the effort of producing a few decades ago. READ MORE
---
FAMILY CIRCLE 
JULY 2016
---
MAY 2016
Self-proclaimed foodies and "research fanatics" Cramer and McComsey, coauthors of The Vegan Cheat Sheet, team up once again, this time with a new diet to share. It still consists primarily of plant-based foods, but now includes omega-3 fatty acids sourced from sustainable seafood. Per American Heart Association recommendations, it allows for seafood two to three times a week, with the occasional indulgence permitted. READ MORE