Thank goodness this recipe makes two loaves, because one will disappear as soon as it comes out of the oven!
| By Amy Cramer |
I adapted and veganized Mom's Zucchini Bread recipe posted by v monte on allrecipes.com. It is hands-down the most delicious zucchini bread I've ever eaten—incredibly moist with a toothy walnut crunch.
Best of all, it keeps for weeks in the fridge and freezes well, too. But it would frankly be a miracle if you had anything left over to store.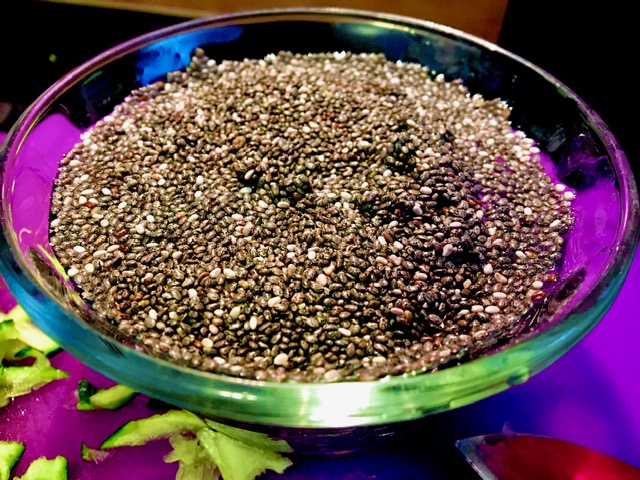 Because this recipe is vegan, one of the adaptations is substituting chicken eggs for the vegan non-chicken-egg version. Just add 3 tablespoons of chia seeds to 9 tablespoons of water, let sit a few minutes, and you'll get an eggy substance that does the trick.
Chopped walnuts give this loaf great texture and heft. Your choice to roughly or finely chop.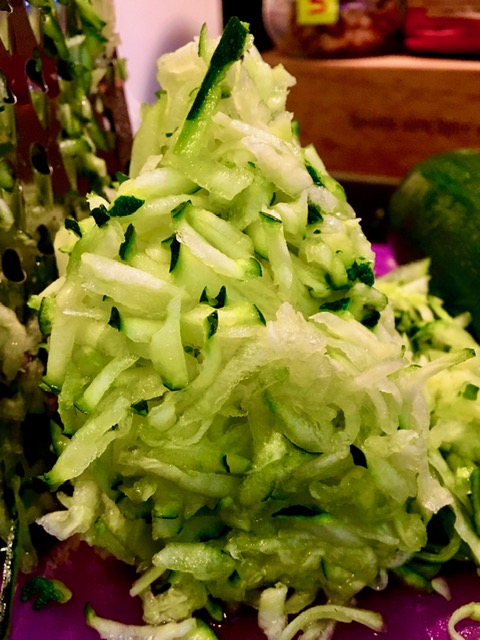 I'm frequently asked if the zucchini needs to be peeled before grating. And the answer is no! Just wash the skin well and grate away.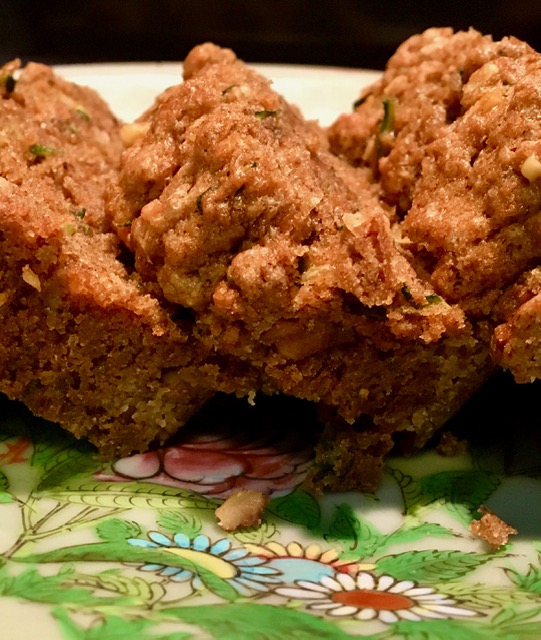 You can tell just by looking at this photo that we're not lying when we say "super moist." One of the reasons this recipe calls for two loaves is because the first will disappear within minutes of coming out of the oven.
A few options:
If you want to change things up a little, add some lemon zest to the batter for a hint of tartness. Or try sautéing the walnuts in a little brown sugar, a tablespoon of vegan butter, and a pinch of salt for a decadent twist (if you do this, cut the amount of white sugar to 2 cups).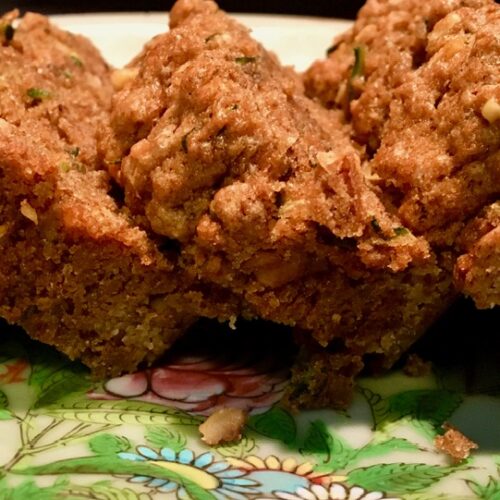 Super-Moist Vegan Zucchini Bread
Thank goodness this recipe makes two loaves, because one will disappear as soon as it comes out of the oven!
Ingredients
3

cups

whole-wheat pastry flour

1

tsp

salt

1

tsp

baking soda

1

tsp

baking powder

1

tbsp

ground cinnamon

3

tbsp

chia seeds

(mixed with 9 tablespoons water; let sit for 5 minutes, until it gels)

1

cup

vegetable oil

2¼

cups

vegan white sugar

3

tsp

vanilla extract

2

cups

zucchini

(no need to peel)

1

cup

walnuts

chopped
Instructions
Grease and flour two 8×4-inch pans.

Sift flour, salt, baking powder, soda, and cinnamon together in a bowl.

Beat chia mixture, oil, vanilla, and sugar together in a large bowl. Add sifted ingredients to the creamed mixture and beat well. Stir in zucchini and nuts until well combined.

Pour batter into prepared pans.

Bake for 40 to 60 minutes, or until tester inserted in the center comes out clean. Cool in pan on rack for 20 minutes.

Remove bread from pan, and completely cool. For a yummy option, sprinkle dried lemon peel on top before slicing.