A delicious twist on America's classic BLT, the TLC (Tomato, Lettuce, Carrot-Bacon) sandwich is a healthy lunch- or snack-time treat.
| By guest chef Leslie Whalen |
The BLT—bacon, lettuce, and tomato—sandwich is an American classic. Crispy bacon, shredded lettuce, a thick coat of mayonnaise slathered on white toast … what could be better than that?
Well, how about a healthier version of the BLT, the TLC (tomato, lettuce, and carrot-bacon) sandwich? Just as delicious and a whole lot better for you, the TLC gives your body Tender Loving Care in the best, "comfort-foodiest" kind of way.
Let's start with magically transforming the humble carrot into strips of crunchy bacon. Really? Yes, really! With just a few ingredients, you can perform some culinary hocus pocus.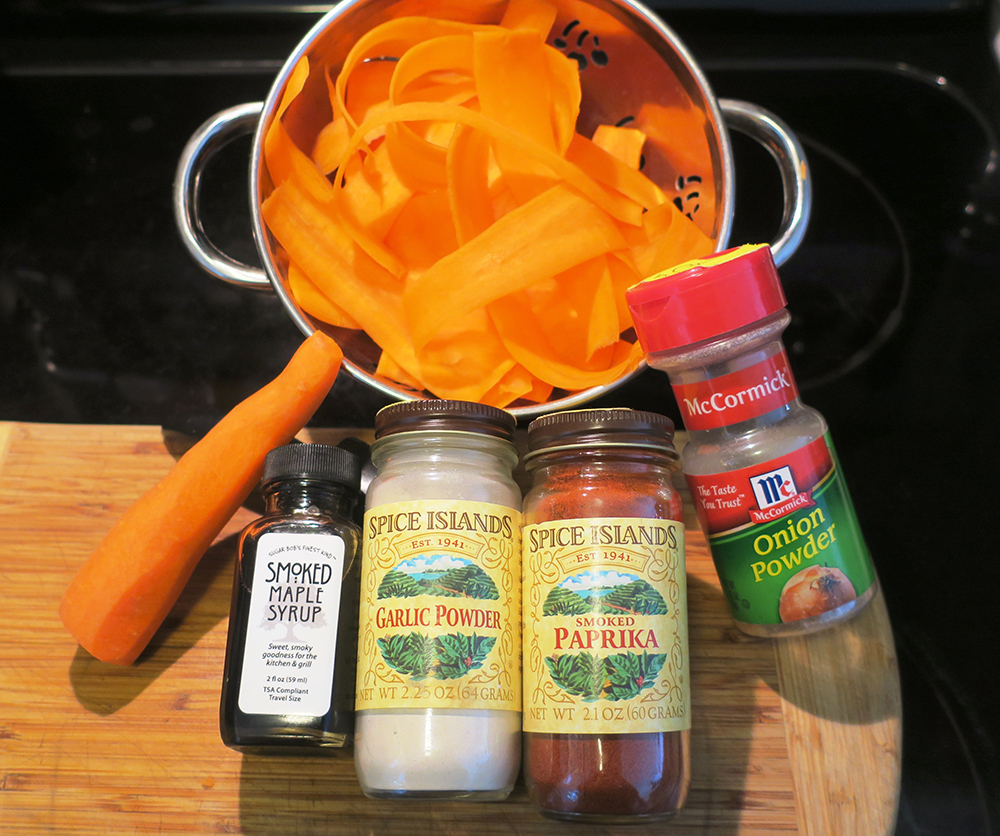 First, take four large, preferably thick, carrots and, using a vegetable peeler, peel from top to bottom forming "bacon strips." Marinade the strips for 10 to 15 minutes in a mixture of smoked maple syrup, garlic powder, onion powder, smoked paprika, and black pepper.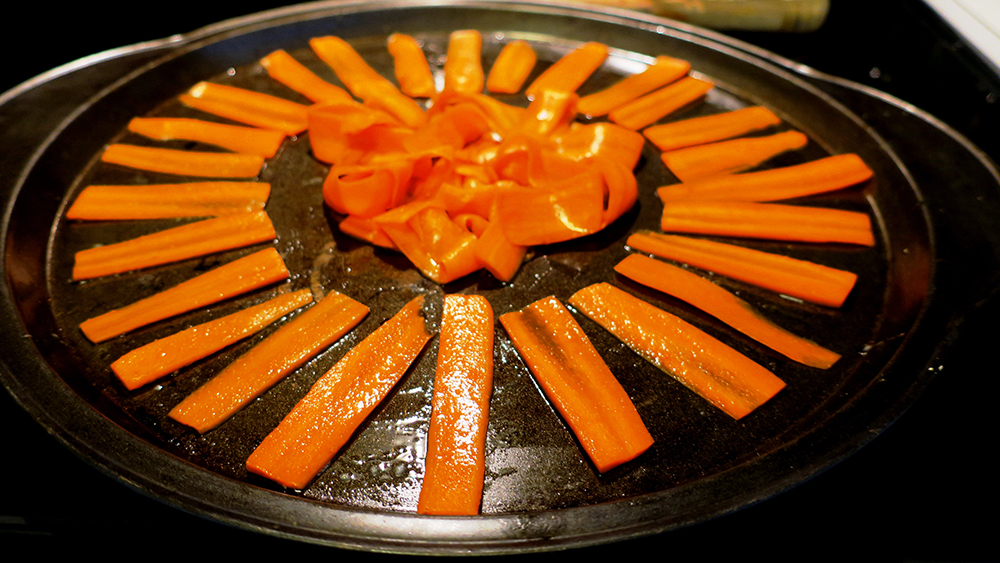 Spray a baking sheet with a light coat of cooking spray and arrange the marinated carrot strips so they're not touching each other. Top with leftover marinade sauce and bake until done in a 400°F oven. Cooking time ranges from 5 to 15 minutes and you must check them every 5 minutes, as they are quick to burn.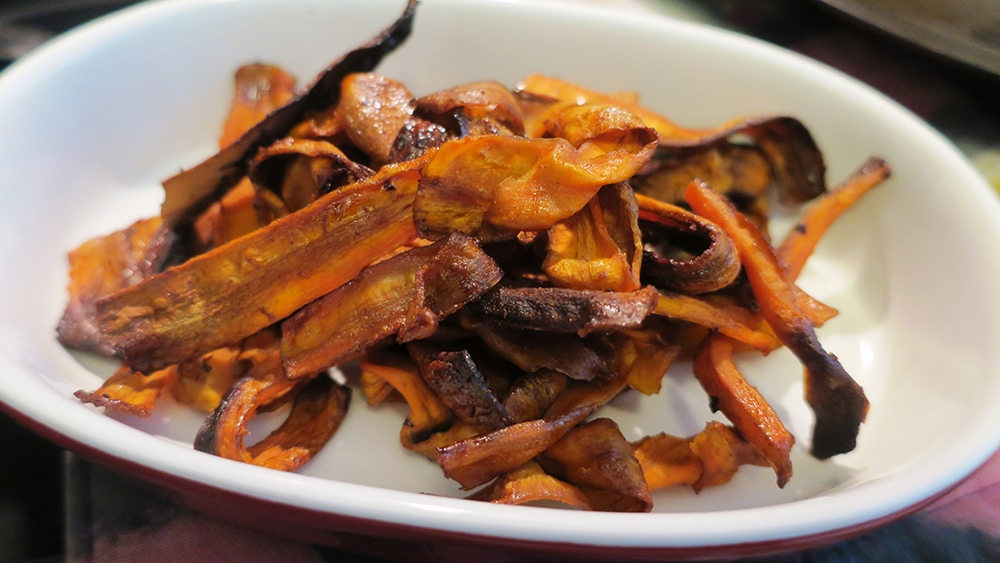 Once removed from the oven and left to cool a few minutes, carrots continue to crisp up—just like real bacon!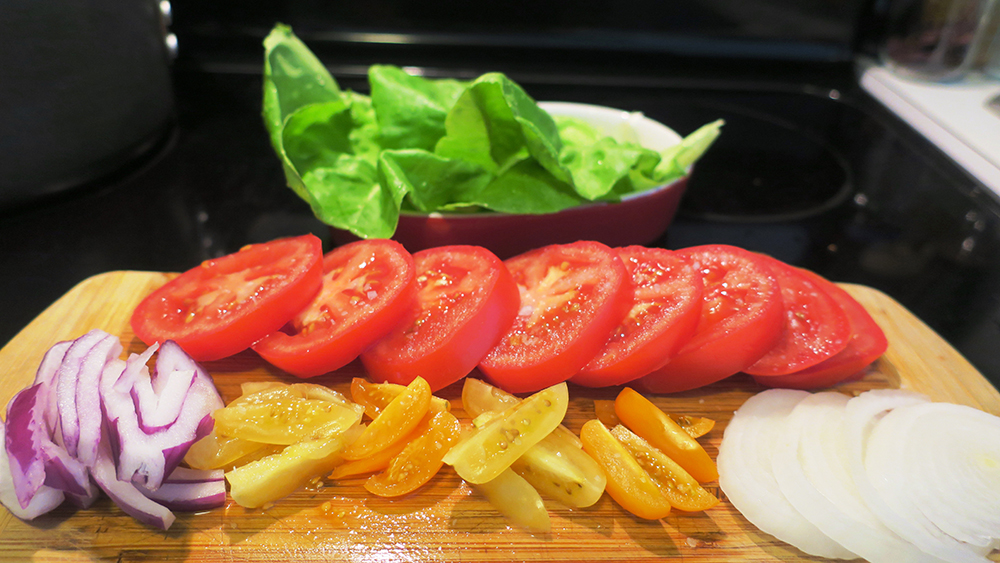 Assemble all your sandwich goodies; my favorite "stuffers" are lettuce, tomato, and onion. You may want to add cilantro, arugula, or other herbs or greens for a flavor pop. Top a couple slices of toasted whole-grain bread with vegan mayo and build your TLC.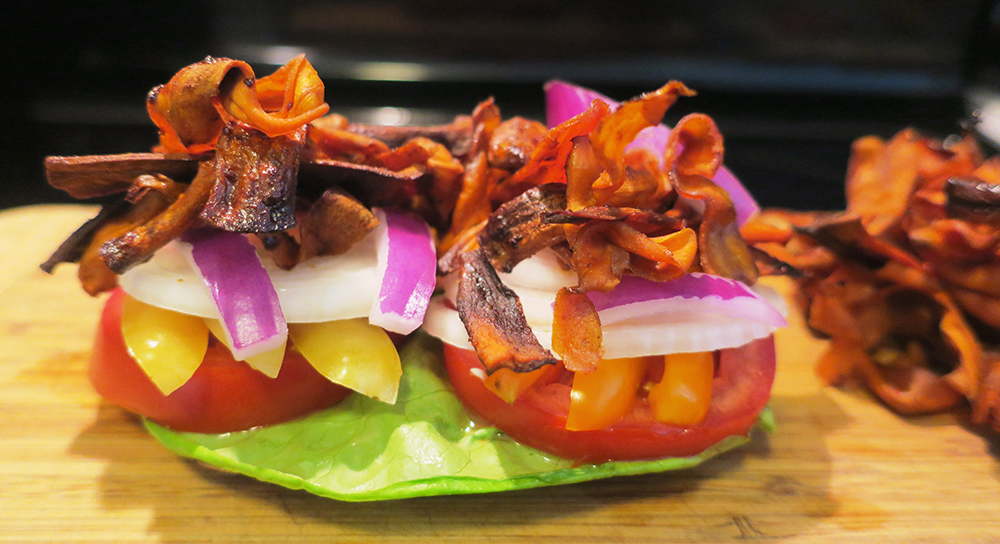 Dig in!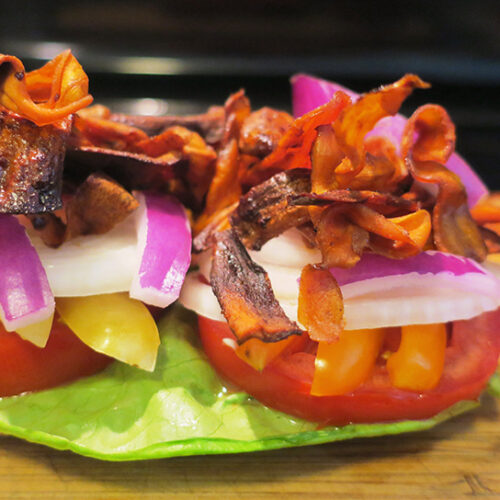 The TLC Sandwich
A delicious twist on America's classic BLT, the TLC (Tomato, Lettuce,Carrot-Bacon) sandwich is a healthy lunch- or snack-time treat. Use organic when possible.
Ingredients
1 large or 2 small

tomatoes

(try red and yellow!), sliced thick (about ⅜-inch) and seasoned with salt and pepper

4

large

lettuce leaves

(butter lettuce is softand pretty), rinsed and dried

4

large

carrots

(it's easier to cut thick ones)

1

sweet onion

(or mix in a sassy purple), sliced ¼-inch thick

4

slices

whole-grain bread

(Ezekiel and Dave's Killer Bread are personal favorites), lightly toasted

2

tbsp

smoked maple syrup

(or regular if you can't find smoked)

¼

tsp

garlic powder

(or more to taste)

¼

tsp

onion powder

(or more to taste)

¼

tsp

smoked paprika

(or more to taste)

black pepper

(to taste)

4

tbsp

vegan mayo
For Garnish and Extra Flavor Pop:
arugula

cilantro

your favorite herb
Instructions
Use a vegetable peeler to peel the carrots lengthwise into strips of "bacon."

Mix the syrup and spices in a bowl big enough for marinating the carrots. (To kick it up, sprinkle in some black pepper.)

Add carrot strips to the marinade and toss around, rest, toss again, repeat. Allow to marinate for 10 to 15 minutes.

Place carrots on a cookie sheet that has been sprayed lightly with oil.

Pour the leftover marinade on top (or drink it like my husband does).

Place the pan in the oven and turn carrots every five minutes or so until done (10 to15 minutes). Note: thinner strips have a shorter cooking time, thicker take longer.

·      Watch carefully as the carrots are quick to burn.

·      Reminder: Carrots will harden more (like candy) when out of the oven and resting. This is what gives them the "crunch" of crispy bacon.

Remove carrots from oven. Lather the lightly toasted bread with vegan mayo, 1 tablespoon per slice.

Layer tomato, onion, and lettuce, and then pile on the carrots. When you think you have enough, add another handful of bacon—I mean carrots. You'll thank me.

Top with arugula, cilantro, or your favorite herb (if desired), add the remaining bread slice, and cut in half. If you can eat your TLC whole, it's not big enough!

Serve with a side of carrot bacon for the ultimate TLC. It is really that good.
So how does your TLC compare with the BLT? We'd love your thoughts in the comments section below.
Photos by TK. ©2020
Leslie Whalen is a Key West-based middle-school reading teacher by day, kitchen sorceress by night. Give her just about any ingredient combo, and she'll turn it into something magical.