We call it ABC soup, and the basics never tasted so mind-blowingly delicious.
| By guest chef Leslie Whalen |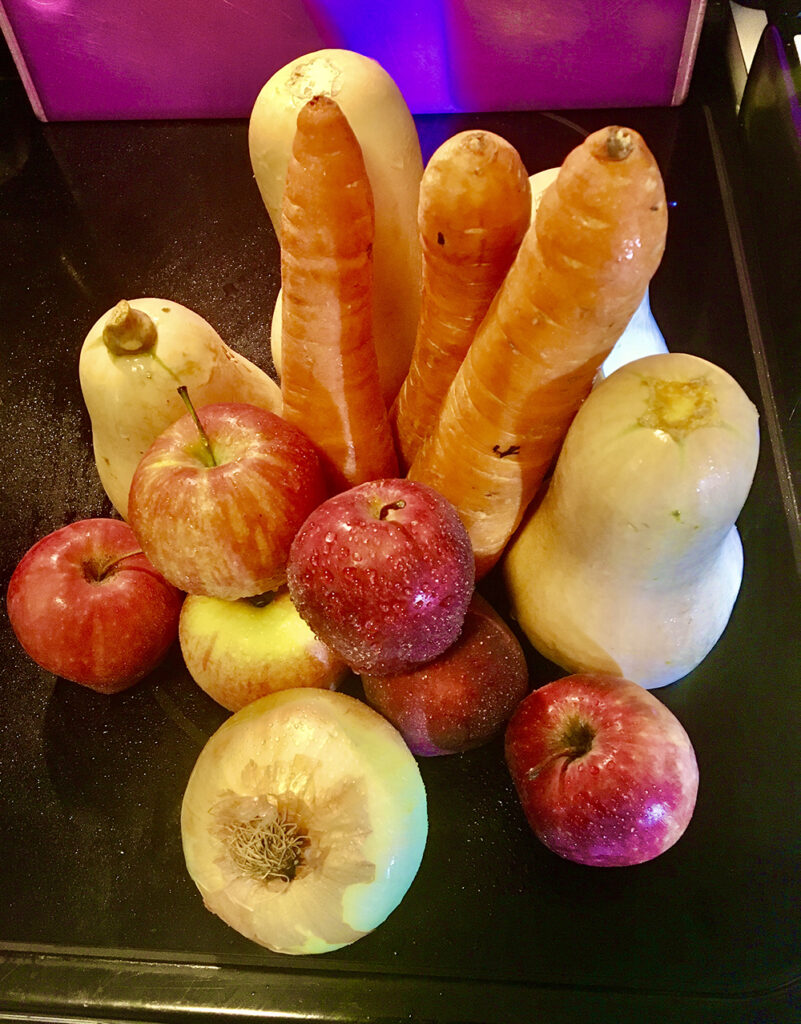 When the box of random produce arrived at my tiny Key West kitchen, I had to do something with these gorgeous fruits and vegetables—and quick. With no room for storage (did I mention tiny kitchen?), I put on my chef hat and came up with this ABC soup.
Even in the tropical heat and humidity of Key West, my husband and I devoured this fragrant, creamy bisque and enjoyed leftovers for days to come.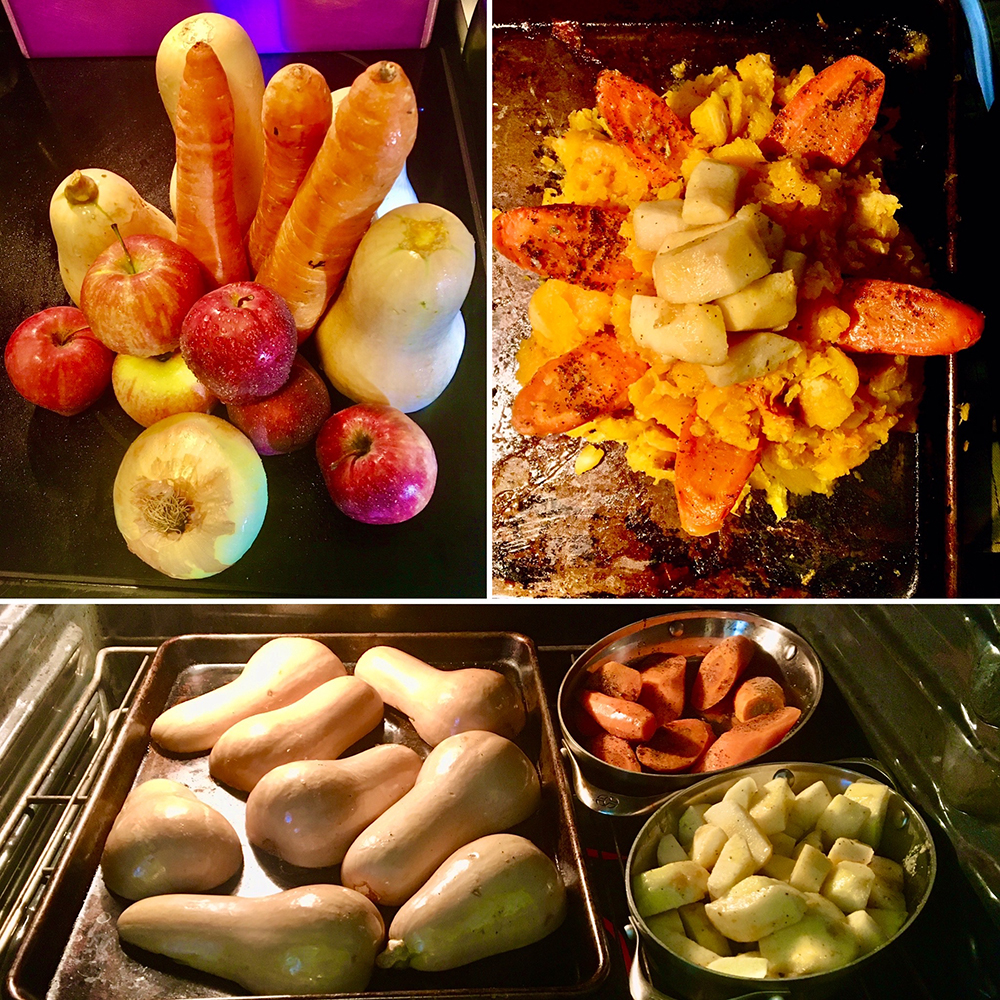 Generously season your cut-up fruit and vegetables, bake for 35 to 40 minutes until tender, and toss it all in a pot of vegetable stock.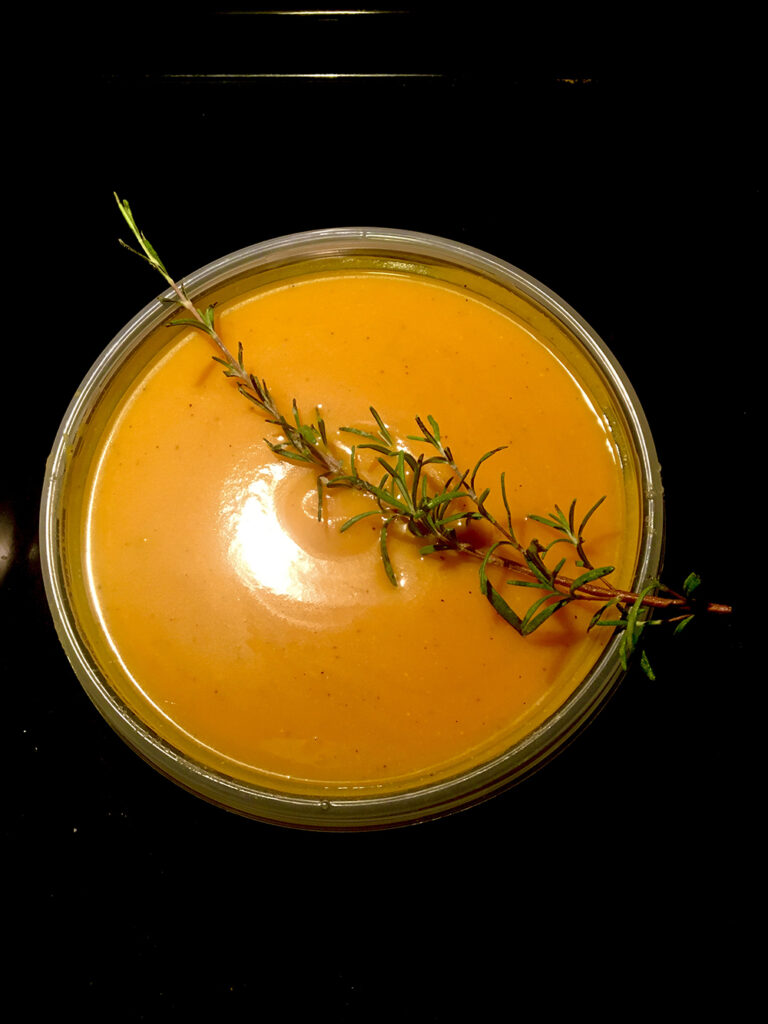 Whip out your immersion blender, spice it up a little more if you'd like, blend that baby till smooth, and savor every spoonful!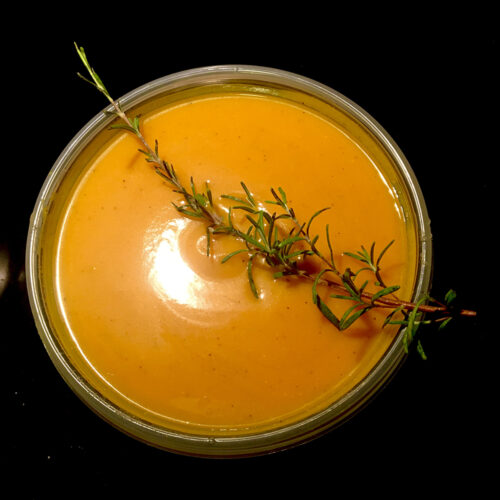 Healthy ABC (Apple, Butternut Squash, Carrot) Soup
We call it ABC soup, and the basics never tasted so mind-blowingly delicious. Use organic when possible.
Equipment
Immersion Blender

Oven

Stock Pot

Baking Sheet

Vegetable Peeler

Knife
Ingredients
6

medium

apples

peeled and sliced

3

giant

juicing carrots

peeled or scrubbed well

1

extra large

sweet onion

cut into 8 large pieces

3

medium

butternut squash

cut in half lengthwise, seeds removed

2-4

cups

vegetable stock

(depending on desired thickness), warmed

1

tsp

yellow curry powder

1

tsp

red curry powder

1

tsp

turmeric

1

tsp

white pepper

2

tbsp

vegan butter (optional)
Recommended for extra flavor pow:
cinnamon

ground nutmeg or mace

ground cloves
Instructions
Prep each ingredient with a little spice. If you use olive oil, it will help to caramelize and give a rich, smoky-sweet flavor to the ingredients. For a lighter touch, use vegetable stock or even apple or orange juice to paint on the ingredients so your spices will stick.

Sprinkle and toss:

·      Apples with cinnamon

·      Carrots with nutmeg or mace and ground cloves

·      Onions with sea salt and white pepper

·      Butternut squash (meat side only) with coarse sea salt and white pepper; place meat-side-down on the baking sheet.

Roast all ingredients on a baking sheet for 35 to 45 minutes or until your ABCs are fork tender. (The fork should pierce each item easily.)

Remove ingredients from the oven.

When you can handle the heat, remove the meat from the butternut squash. Set aside.

Prepare your base in a stock pot:

·      Add yellow and red curry, turmeric, and pepper to bottom of pot andheat up. If you use vegan butter, toss in two tablespoons here to cook thespices.

·      Add a cup of vegetable stock and mix well.

Toss in the roasted vegetables.

While using an immersion blender to cream the vegetables, slowly add remaining vegetable stock, a half cup of stock at a time until the soup becomes thick and creamy.

Taste and add more of any or all of the spices—nutmeg and cloves are the trick flavors! If you like, stir the soup with a large sprig of rosemary to add that wonderful essence.

Serve hot with love and a fantastic piece of bread.
Leslie Whalen is a Key West-based middle-school reading teacher by day, kitchen sorceress by night. Give her just about any ingredient combo, and she'll turn it into something magical.
Photos by TK. ©2020